Font not the right size?
Tomorrow is election day and many people are still making up their minds which way to vote. In Sheffield Central it is a clear choice between the Labour Party and the Green Party. Other parties have not been campaigning here.
The differences between Labour and Greens have been highlighted in our newspaper.
Don't forget you have two votes. Please vote for Jillian Creasy in the General Election and Graham Wroe in the local election.
Locally people often tell me the Labour vote is so strong it is not worth voting as they always win. It doesn't have to be like this! Have a look at this pie chart.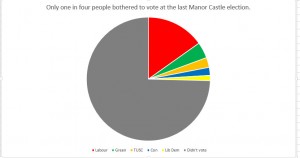 So of the people registered to vote, only roughly one quarter of them did.If only a small proportion of those non voters vote Green, we could easily win Manor Castle.
Unless people start to vote for what they really believe in we will continue with tweedledum and tweedledee two party politics, with its unfair voting system, austerity, complacency about climate change, offering no real hope for the future. This election help to be the start of a peaceful revolution! Vote for the Green Party!