Font not the right size?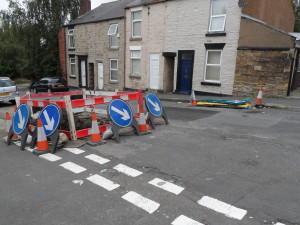 A couple of weeks ago I got a phone call from Yorkshire Water. "It's about the barriers you reported on Stafford Street". "Yes" I said, "they are still their making the street look a mess". "But how many are there?" asked the man from Yorkshire Water. "About a small van load" I replied.
Next day I was rather expecting the pile to have been taken away. No, it was still there. The following day more appeared, and Yorkshire Water started digging yet another hole! They had of course brought new bollards and signs. Oh well I thought, when they finish they will surely remove all the bollards and signs. How wrong can I be! The work has now been finished and the new signs taken away, but the old pile is still littering the side of the road.
Please Yorkshire Water, come and take away your signs and bollards!