Font not the right size?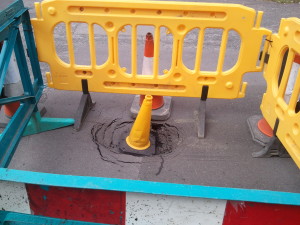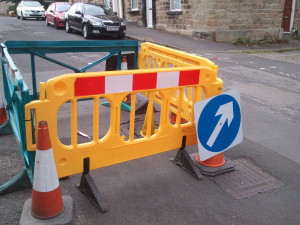 Earlier this year a large hole appeared in Stafford Street. My friend reported it to the Council and workman were soon there to make repairs. The workmen informed me the hole was due to a sewer collapse. This week another hole has appeared in almost exactly the same place.I have written to Yorkshire Water to enquire what is happening. I am concerned about the state of the sewer and if it needs a complete replacement. I will let you know their reply.
Yorkshire Water Ref : LNSS-9METDW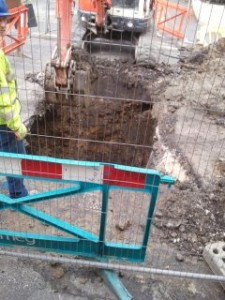 Update 13.8.14
Came back from holiday to find 4 different answer phone messages from Yorkshire Water so they are obviously keen to talk to me about this! Unfortunately they haven't managed to answer my question yet.
Update 4.9.14
Here is the full reply from Yorkshire Water, which says they have checked the sewer and it was just a coincidence that it collapsed twice in the same area. Lets hope we wont have any more problems. Manwhile I have thanked Yorkshire Water and reminded them that they still haven't removed the barriers from Stafford Street!
With reference to: P501644-2
Good afternoon Mr Wroe
Thank you for taking the time to speak to me on the telephone, please find information about the collapse of the sewer in Stafford Street as you requested.
17119381 Vactor visit  24 July 2014
Visit booked to meet dig supervisor on site with regards to a possible excavation.
–    Informed of possible collapse on sewer – met operative on site and raised follow-on work.
17123565 29 July 2014 Excavate and repair sewer
Need to excavate on sewer upstream of the manhole near the junction of Stafford Street and Talbot Gardens. The road is sinking at this point and the council have made us aware of this and have placed barriers there. This is a 375mm pipe at an approximate depth of 3.2m and is affecting no.67 Stafford Street.
–    We dug down and repaired the collapsed 375mm sewer replacing a section 2m long with plastic pipe.
–    Follow-on work raised for the backfilling of the excavation and the re-instatement of the road.
–    Work raised also for a vactor (tanker) to jet flush sewer as seems to be holding downstream of the manhole.
17144715 Vactor Visit 7 August 2014
Please jet the sewer and inspect using man entry. The dig team cleared the manhole after a collapse upstream but were unable to reach the rubble downstream. Please jet rubble back to manhole and do man entry to clear chamber as holding.
–    We jetted downstream and pulled back under pressure but found that no debris was brought back.
–    The sewer has got a swilly (dip in the pipe) in the downstream  invert which is causing water to hold a level.
–    No major problems and the sewer is running through.
17144759 Re-instatement 4 August 2014
Dig team to back fill and re-instate high way dig.
–    We re-instated the carriageway in an area 3m x 4m and used 10mm tarmac to finish.
I hope this information is helpful to you. As you can see, we have checked the sewer with the use of a camera survey and have had our technicians actually enter the sewer.
Nothing showed up to indicate this sewer is not fit for purpose; it would seem that it was purely a case of co-incidence rather than the total demise of the sewer that has unfortunately caused two similar incidents in such a short time.
Most sewers are built to be gravity fed and with only the correct waste going through them are usually very efficient and require minimal maintenance.
We rely heavily on our customers to assist in keeping the sewer network free-flowing by not introducing unsuitable materials; all that should go in to any drainage system is human waste and toilet tissue. The vast majority of problems are caused by the introduction of fats, oils and grease (FOG) which solidify instantly in the cold sewers however much hot water is used to swill them down. Another leading culprit are wipes of which there are numerous types now for all occasions, not just for cleaning baby. Some of these may be said to be flushable but, combined with FOG, they prove to be a major component in the blockages we remove from our sewers.
Should anyone notice anything untoward with the network, we would ask that they call us immediately on 0345 124 24 24. This will allow us to assist and advise quickly thus minimising the effects on our customers.
It will also allow us to build up a clear picture of any potential risks, allowing us to try and address these pro-actively before things worsen.  Our vision remains 'Taking responsibility for the water environment for good' and we remain committed to providing an excellent service for our customers.
Kind regards
Janette Murray
Customer Services Operations.