Font not the right size?
Many people have been complaining about the extremely slow progress of the street light works in the Norfolk Park area. Work started back in August on repairing kerbs and digging holes around lamp posts. The holes are still there and it is now November. To see more visit Facebook pages such as Sheffield Residents holding Amey to Account Norfolk Park Sheffield and Save Norfolk Park Trees. Barriers are continually blowing over. They are often left as trip hazards on the pavement or road. Holes are then left uncovered and one dog has already fallen in such a hole. The holes contain live wires. The barriers are a nuisance to most people but to some elderly and disabled people they are a severe problem, meaning some people are virtually imprisoned in their homes.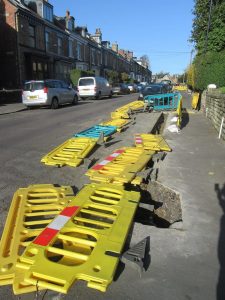 Here is one response to a complaint from a Glencoe Road resident.
"Thank you for your complaint dated 22 October 2017. We take all complaints seriously and try to use them to make our services better.
Your complaint is regarding the on-going street lighting works on Glencoe Road. I am Oliver Janaway, Street Lighting Supervisor for the Streets Ahead contract and I am responsible for the street lighting upgrade works across the city. I have investigated your complaint and I am writing to inform you of my findings.
I would like to offer my sincere apologies for the delay in completing the street lighting works on Glencoe Road. The delay is due to programming issues, however, I do appreciate your concerns particularly in respect of the length of time the works have been on-going and the resulting access and traffic management issues on site.
The installation works are carried out in stages all of which need to be completed in sequence. The stages include digging the excavations, installing the new street lights, connecting the lights to the existing underground electricity cables, removing the old lighting columns and finally backfilling the excavations and reinstating the footways and verges.
Whilst our works are on-going, health and safety is paramount for residents and road users. Safety barriers and walk boards are installed to provide safe passage for pedestrians and footway users wherever possible. I would like apologise to you for the impact it had on your ability to safely negotiate through the works.
A Traffic Management Team attended site on 24 October 2017 and adjusted the safety barriers to ensure that access on the footway is available.
We are making every effort to complete the out-standing street lighting works as soon as possible. The open excavations will be fully reinstated by within the next four weeks. Following this, the safety barriers and walk boards will be removed from site. In the meantime, the traffic management will be routinely checked to ensure that the area remains safe and access is available.
We hope this information is helpful to you, however, if you encounter any further difficulties please do not hesitate to contact Customer Services at streetsahead@sheffield.gov.uk, via the website www.sheffield.gov.uk/streetsahead or by telephone on (0114) 273 4567.
Kind regards
Oliver Janaway
Street Lighting Supervisor
Customer Services (Amey)
Tel: 0114 273 4567
Email: streetsahead@sheffield.gov.uk"
Please keep the complaints flooding in. Please use this form to report your concerns.