Font not the right size?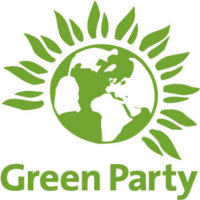 A local Green Party member got a shock when she went to pick up her prescription at Lloyds Chemist. Here is the correspondence.
I wish to make a complaint about the offsite dispensing service now used by Lloyds Pharmacy.
Up until now the service I have received by my local pharmacy has been very good, but not the last time I picked up my prescription.
Up to now the pharmacy has been using paper bags which are inexpensive, easy to dispose of and recyclable or re-usable. Very good! This time I was given the medication in non-recyclable and not re-usable plastic sealed bags, at a time when the government (and all responsible retailers) are moving away from plastic.
To my amazement the bag also had my full name and address on printed directly onto the plastic bag. On the government website https://www.consumer.gov/articles/1015-avoiding-identity-theft#!what-to-do it advise people to shred papers that have your personal or medical information. This clearly cannot be done for a plastic bag and because they take decades to break down the personal information (name and address) will be available for a long time.
I am asking you to let me know what your company is going to do about this. Because you have a direct relationship with the NHS and hundreds of outlets this issue is important.
I am also sending a copy of this to my MP.
Here is the reply
Thank you for your email dated 10th April 2017 detailed below.
I am very sorry to read of the problems you have faced at LloydsPharmacy, and would very much like to get this matter looked into for you, in order for me to do that, please can you advise of the full address details of the pharmacy that dispenses your medication?
Thank you for taking the time to contact LloydsPharmacy and I look forward to hearing from you soon.
Kind Regards
Customer Care Team
Celesio UK
Our member replied
Thank you for your prompt reply. I am not happy to let you know the pharmacy involved as I have no wish for them to be singled out. The staff are always hardworking, kind and helpful.
The problem you have is not a pharmacy issue but one of systems and management decisions. Please note;
· The plastic bags are manufactured specifically for your company and are the logo green and white and have the name LLoysPharmacy emblazoned all over them, including your web address.
· They are printed with the information "Assembled by Warrington PAS hub, Winwick Quay, Warrington, WA2" (post code incomplete) so nothing to do with the local pharmacy.
Please let me know what you intend to do about this. I am also sending this to my MP.
This is clearly a very backwards step from Lloyds. We hope they revert to the paper bags very quickly.
.