Font not the right size?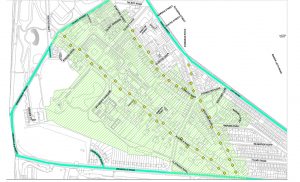 After weeks of delay from Streets Ahead we eventually got sent the map showing where Heritage streetlights are going to be installed. This work is due to take place in the next few days. Our calls for a public meeting or local consultation have been ignored. There are obvious problems with the current proposals, notably that the most historic part of the conservation area, the Gin Stables on Stafford Lane, don't get Heritage lights. Other streets in the Conservation area but missing heritage lights include Fitzwalter Road, Ingram Road, Stafford Street, Claywood Road, Talbot Place and Talbot Gardens.
Please email or phone Streets Ahead and your local councillors to object without delay. streetsahead@sheffield.gov.uk telephone on (0114) 273 4567
Here is the letter I received from Streets Ahead.
Further to our email dated 9 February 2017, please accept our apologies for the delay in responding.
Please find attached a document showing the locations, with a yellow X, where all of the heritage lanterns will be installed in B64 Norfolk Park Zone
If you require further information regarding the criteria for the installation of heritage lanterns, you can contact the officer in the Conservation Team, John Stonard, and his email address is john.stonard@sheffield.gov.uk.
When designing the street lights on Fitzwalter Road it was identified that the required lighting levels could not be achieved using 6 metre columns with heritage lanterns. We therefore installed 8 metre columns with LED lanterns to ensure the required lighting levels were met.
Our teams are currently working in B64 Norfolk Park zone. The process for upgrading the street lights usually takes 6 weeks. The reason for this is because the installation of a single streetlight is a complex process and all of the stages need to be completed in sequence. These include digging excavations, installing the new columns, connecting the new columns to existing underground electricity cables, removing old columns and finally backfilling excavations and reinstating pavements/verges. All excavations will remain barriered off during the works for Health and Safety reasons, however, access should be maintained for pedestrians. The remaining work in the area will be completed by 3 March 2017.
We can confirm that the street lighting works on Claywood Drive and Donnington Road were completed.
In response to your queries regarding tree felling we can confirm that we have a number of open enquiries on the system, and will respond to you in due course under reference numbers 101003098790, 101003101326 and 101003159031.
Please accept our apologies for any inconvenience caused by our works.
We hope this information is helpful to you, however, if you have any further queries please do not hesitate to contact Customer Services at streetsahead@sheffield.gov.uk, via the website www.sheffield.gov.uk/streetsahead or by telephone on (0114) 273 4567.
Kind regards
Customer Services (Amey)
Tel: 0114 273 4567
Email: streetsahead@sheffield.gov.uk
Follow us on twitter @sccstreetsahead
For more information on the Streets Ahead Contract please visit our dedicated webpages at:
www.sheffield.gov.uk/streetsahead