Font not the right size?

Holes are being dug in S2, yellow screens put up and slowly tall black lamp columns are appearing. But what kind of lamp posts will you be getting outside your home? The new 'energy efficient' LED lamps are meant to to lean and green, but to many people they are ugly, patchy in the spread of light and being put up in the wrong places. And when residents ask them Amey can't tell us where or when they are going to be installed.
Sometime in late 2013 or early 2014 the contract for Amey to supply street lighting to the Norfolk Road conservation area was signed off by the City Council. According to an email from the Head of Urban and Environmental Design at the council, that included 57 heritage-style conservation lamp posts. They look like this – not ideal – but in the one-size-fits-all Wonderful World of Amey, better than the dual-carriageway-friendly alternative.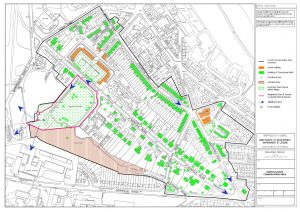 The heritage style lanterns are just as energy efficient as the ordinary ones but are designed to be more in keeping with the C19th stone built housing on Norfolk Road, Talbot Street, Talbot Gardens, Talbot Place, Belmonte Gardens, Fitzwalter Road, Claywood Road, Stafford Road, Stafford Lane and to fit in with the listed Shrewsbury Hospital, Cholera Memorial, Gin Stables and the award winning Cholera Memorial Park and Clay Wood. The conservation area map is here and can be downloaded as a pdf here.
Suddenly – in November 2016 – one Norfolk Road resident found out that we were't going to have those lanterns. If they hadn't spotted this in a lighting plan no one would have been any the wiser. Yet earlier in the year Amey staff working in the area specifically told a number of residents that yes we were getting heritage lighting columns.
This episode brings up the issue of privatisation, and the impact of austerity cuts to our vital public services. But for me, having spent hours and days chasing this one up the issue is secrecy and why don't we know anything? Like every aspect of all the various Amey works, whether it be trees or tarmacking historic cobbled streets communication with residents has been non-existent. Amey employ a Community Steward for our area or a sheffield-wide Engagement Officer. But you wouldn't know it. Even elected representatives are kept in the dark (no lighting pun intended here!). When approached about why the change our local councillor Pat Midgley knew nothing. n the end it took three weeks to dig out the information and I got back a reply from Amey on 14 December:
"We are sorry to hear that you are unhappy with the service provided by Streets Ahead. We have assessed your complaint and feel a formal investigation is required in this instance. Your complaint will be investigated by Jonathan Skill, Principal Operations Manager for the Streets Ahead contract. You can expect a reply to your complaint by 9 January 2017."
But still no confirmation from Amey that they were going to honour the contact and install the 57 heritage style lamps.
The holes are still being dug and the yellow screens go up in S2. So please – if you see work going on to a lampost near you – it shouldn't. Manor Castle Green party believes our historic environment expects better than this. Until the contract is honoured and the Norfolk Road conservation area gets the appropriate lamp posts tell Mr Jonathan Skill how you feel about it. Get on the phone. Send an Email. Mr Skill can be contacted via streetsahead@sheffield.gov.uk or by telephone on (0114) 273 4567 using the reference: 101003015886 – Complaint Investigation regarding lanterns used on Norfolk Road S2 (1366129).
Brian Holmshaw
Manor Castle Green Party