Font not the right size?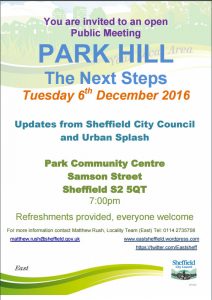 At last we have a date for the open  meeting we have been lobbying for since 2015. This is your chance to ask questions to Urban Splash, Council officers and Councillors about the development of the flats. Please be there and be prepared with your questions.
Here are some issues it is important to raise. Please let us know if you have other issues.
When homelessness is on the increase why is there no provision for social housing in the next phase?
Why is progress still so slow and is it not possible to complete before 2022?
When will the promised shops arrive at Park Hill?
Does the development have to continue working slowly up the hill? Would it not be possible to make a start at the Talbot Street end earlier and then work in a pincer movement to the middle?
What is being done to protect the flats not yet being developed from further dereliction? Can their appearance be improved in the mean time?
What is happening concerning rough sleepers using the balconies?
How can we combat the gang dealing drugs in the area around Park Hill?
Please help publicise this meeting. Bring your friends, print off this poster and put it on your window or on any noticeboards you have access to.