Font not the right size?
On December 27th Manor Castle Greens wrote the following letter to the Sheffield Taxi Trade Association. Unfortunately we haven't had a reply, so we are now publishing the letter in the hope of reaching individual taxi drivers. If you know a taxi driver please forward them this link.
Dear Mr Rehman, Mr Ahmed, Mr Ali and Mr Rahim
I am writing to you on behalf of Manor Castle Green Party.
Firstly I want to congratulate you on the excellent effort your drivers made in providing transport for the S2 Foodbank's trip to Cleethorpes. I gather that the kindness and generosity of the drivers enabled the trip to happen and brought joy into many peoples lives.Thank you for being so community minded and willing to support people in need.
Secondly our group has recently being looking at the problems of air pollution in the city. You may have read a recent Star article which showed that 698 people die prematurely in South Yorkshire each year due to poor air quality. You can read the article here.
One of the pollution hot spots in the city is the area around the taxi ranks in the city centre. This graph from the East End Quality of Life Initiative shows the dangerous concentrations on Nitrogen Dioxides at the taxi ranks.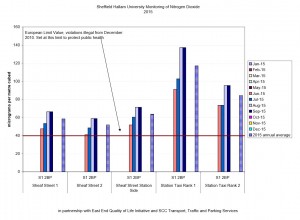 This is a health and safety concern for your drivers who have to breathe this air. Nitrogen dioxide can irritate the lungs and lower resistance to respiratory infections. According to DEFRA "elevated levels (of NO2) and/or long term exposure to air pollution can lead to more serious symptoms and conditions affecting human health. This mainly affects the respiratory and inflammatory systems, but can also lead to more serious conditions such as heart disease and cancer. People with lung or heart conditions may be more susceptible to the effects of air pollution."
In addition to the serious health risks for taxi drivers the pollution also effects your passengers and pedestrians around the station.
I wonder if your association could suggest any measures that would improve this situation? I understand that drivers need to keep warm which is probably why they often leave their engines on. Would it be possible for drivers waiting for a fare at the station to have somewhere warm to wait and socialise with their colleagues? What needs to happen to encourage electric taxis to be available at the station? Is there anything the Council could do to help with the air quality problem? In the meantime what measures could be taken by the taxi drivers to help reduce the pollution?
Please could you circulate this letter to your drivers? I look forward to hearing from you and hope we can work together to try to improve the air quality at the station.
Yours Sincerely
Graham Wroe
Manor Castle Green Party