Font not the right size?
A recent article in the Star highlighted that there were 698 premature deaths in South Yorkshire in 2010, 269 of which were in Sheffield.
The East End Quality of Life Initiative measure air pollution around the city. Here are the latest graphs that pertain to our area. The red line shows the European Limit Value which was set in 2010 to protect public health. (click the graphs to enlarge)
Park Hill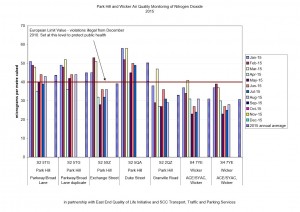 The European Limit Value is being consistently breached on Duke Street, Granville Road, Exchange Street and Broad Lane. It is probably also being breached on other roads where there is currently no measuring equipment. We need to find ways to reduce traffic and congestion in Manor Castle. Instead of the recent bus cuts we should be improving public transport. We need to make walking and cycling more attractive by providing safe and pleasant routes. The public need educating so that they understand the pollution they cause when they drive is actually killing people. There is probably a strong case to re-examine the bus gate at Duke Street/Park Square which causes lots of congestion on Bernard Street and Shrewsbury Road, but buses do need to be given priority so that people choose public transport over driving a car.
Manor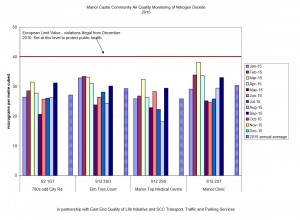 Figures on the Manor are all close to the European Limit Value. This does not mean that the air quality is safe! Efforts need to be made to reduce pollution here too.
Efforts need to be made to reduce pollution here too. Cycle Sheffield have been campaigning for a protected space for cycling along Prince of Wales Road. which even the most experienced cyclist can find frightening to cycle on.
Sheffield Station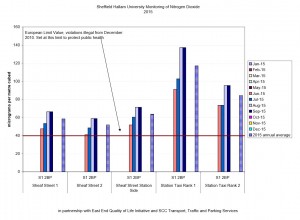 The Nitrogen Dioxide levels around the taxi ranks at the station are over three times greater than the European Limit Value. This is scandalous. Urgent action needs to be taken to ensure taxis do not leave their engine running when stationary.