Font not the right size?
I now have a report from an independent arboriculturalist  on 4 of the trees that Amey want to fell on Prince of Wales Road. Here it is.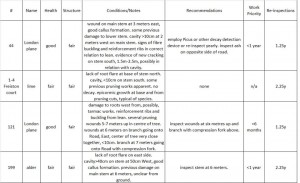 All of the trees are in "fair" condition. This means they would need an occasional check to ensure they are still safe. It is obviously much cheaper for Amey to cut them down and replace them with saplings, which wont produce leaf litter that needs clearing or require checks. But these trees provide a valuable service to the people of Prince of Wales Road that the saplings wont provide for many years. They improve the air quality, they protect the residents from the noise of the traffic, they reduce the risk of flash flooding and they look good in an area which has little in the way of public parks and open spaces. Who takes into account the cost of losing the trees to the residents? I am still trying to find out more information about 2 more threatened trees in the area.