Font not the right size?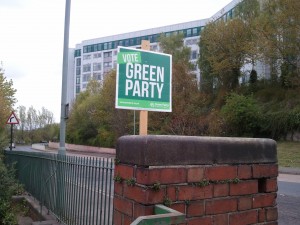 Results for the Manor Castle ward 2015 local election.
Jenny Armstrong, Labour Party: 3,694
Jon Butt, UK Independence Party (UKIP): 1,225
Graham Wroe, Green Party: 639
Colin Muncie, The Conservative Party: 477
Kurtis Crossland, Liberal Democrats: 313
Alistair Tice, Trade Unionist and Socialist Coalition: 101
Electorate: 13,584
Turnout: 47.78%
The turnout was the lowest of any ward in the city. Thoughts on how we can motivate people to get out and vote would be much appreciated. People in Manor Castle are going to be hard hit by the new Conservative Government, it's such a shame so few turn out to vote.
In the General Election we did very well to come second in Sheffield Central and save our deposit in Heeley. Aodan Marken was elected as a new councillor for Broomhill. We also had some good second places around the city in the local elections.
Very many thanks to everyone who helped in any way with the campaign, especially those that put up posters, came door knocking and leafleting. We have built a solid foundation and are well placed to make a massive impact in the 2016 local elections, when all the Council seats will be contested due to boundary changes.