Font not the right size?
Graham Wroe   presented a petition to Sheffield City Council appealing for a pelican crossing at the junction of Duke Street, Bernard Street and Talbot Street today.
Graham, who is standing for election in May, said "This junction is so dangerous elderly people are afraid to cross. Without a pedestrian light and with traffic continually filtering in different directions it can be a complete nightmare. Even young people have to run to get safely from one side to the other. According to Crashmap.co.uk there have been 16 incidents at this junction in recent years one involving serious injury. I witnessed a car crashing into a pedestrian here and it is time for the Council to act. The junction is very close to 2 Health Centres and elderly people's accommodation. The Council should ensure the junction is safe for pedestrians to cross by installing pelican crossings."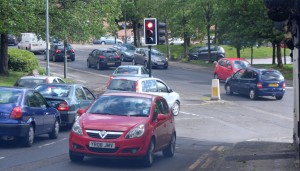 Among the 158 signatories is a woman who once fell over crossing the junction, injuring her leg. Nobody came to her assistance, but cars inched closer and closer to her until she was eventually forced to drag herself back to the pavement!
Comments on the petition included
"It is a complete nightmare to cross this road, I have used this route into town for years and I always worry that some car will jump the lights at the bottom of Bernard Rd and run me over. It's practically impossible for the elderly or people using wheelchairs unless they are fearless!"
"It really is very unsafe, as a young, healthy person even I find it very hard to cross the road at this junction."
"I totally agree something should be done, as I have witnessed people endangering themselves trying to dodge the traffic to cross, drivers generally are in too much of a hurry and speeding cars are an issue."
"I know from experience that the individual roads at this junction are extremely difficult to cross and urgently need safe crossings."
Councillor Dunn responded to the petition by saying that the junction would be reassessed.