Font not the right size?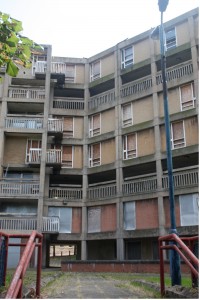 Back in mid November Manor Castle Greens wrote to Paul Blomfield MP and Councillor Julie Dore, leader of the Council, regarding Park Hill flats. An initial acknowledgement was sent. We have still not had a reply from our  earlier letter to Urban Splash, sent 6 months ago.
Dear Mr Blomfield
Manor Castle Greens welcome the fact that work is commencing on phase 2 of the Park Hill Flats. Unfortunately progress is very slow and the majority of the estate is derelict. It appears that it will blight our area for many years .The condition of the building fabric is likely to deteriorate unless work on the rest of the estate commences soon which is likely to make completion of the later phases more expensive and potentially more technically difficult. We fear these phases may never be completed.
Prior to the decanting of the previous tenants there was a reasonable parade of shops. These shops served Bard Street, Duke Street, Talbot Street and surrounding areas as well as Park Hill itself. We were promised new shops when the proposals were published. To date, although part of the development has been occupied for some while, not one shop has opened. This combined with the relocation of the markets to The Moor has meant that our area now has some of the poorest shopping facilities in Sheffield. There are no fresh food outlets. Only take away shops seem to thrive.
As Urban Splash do not seem to be delivering on the refurbishment are there any plans to look for alternative funding and developers? There remains a serious lack of housing in Sheffield and it is a real waste to see such a large "Brown Field" Site not being used.
Please can you tell us when retail units will be opening, particularly any selling reasonably priced good quality food?
We hope to hear from you soon
Yours Sincerely
Geoff Richardson on Behalf of Manor Castle Green Party