Font not the right size?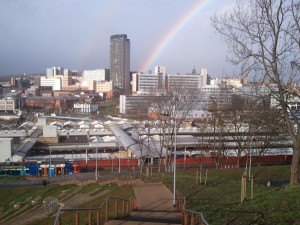 This excellent article in the Observer explains why the Green Party is currently so optimistic and finishes listing Sheffield Central as one of our Target Constituencies. With 4 Councillors in Central Contstituency, 1st or 2nd places in every ward at the local elections and 30.5% of the vote we are the clear challengers to Labour. As our membership continues to surge we are gaining on them fast. Why not join us and be part of the team that could cause a major election upset!
"The resurgent Green party is to target a dozen seats across England, which it believes it could either win or come close to seizing in next May's general election, as membership rises and confidence grows that it could outpoll the Lib Dems.
Last week, the number of Green party members in England and Wales passed 22,000 – a 57% increase since 1 January – with the number of young Greens (under-30s) having risen 100% to more than 8,000 since 1 March.
Party leader Natalie Bennett told the Observer that the weakness of the Tories, Labour and the Liberal Democrats, and the rise of Ukip, all pointed to the next election being the most difficult to predict of recent times, and one in which the Greens could realistically step in and gain half a dozen seats or more."

Continue reading here http://www.theguardian.com/politics/2014/oct/18/green-party-general-election-12-seats-england?CMP=twt_gu