Font not the right size?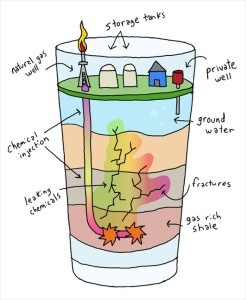 I recently wrote to my MP Paul Blomfield about fracking and got a reply today. I have a great deal of respect for Paul , he is a hard working MP and his work on clamping down on loan sharks has been excellent. However his reply to this shows why it is so important to oppose the Labour Party at the next election. Although he does pledge that the Labour Party will start to move towards decarbonising our economy, he supports fracking.
Greens believe there is enough evidence to ban fracking in Europe, as they have done in France and Bulgaria.
The objections to fracking cannot be simply ignored. There's the risk of toxic chemicals contaminating our water supplies, the air pollution, the effect on our environment of thousands of wells, the huge quantities of water consumed, and the climate change impact of our continued reliance on dirty gas.
The climate coalitions statement on fracking notes that
"If we are to meet the goal of limiting global warming to 2 degrees, more than half of the world's proven gas
supplies which do not include shale gas will need to be left in the ground. This means it is likely that
pursuing a shale gas industry in the UK and elsewhere will result in burning more gas than is compatible with avoiding catastrophic climate change.Investing in shale gas extraction also compromises our ability to meet the legally binding targets laid out in the Climate Change Act if it is burnt in the UK.
The Committee on Climate Change advises that to meet the targets in the Climate Act (a reduction of
carbon emissions by 80% by 2050 on 1990 levels), the UK power sector should be almost carbon free by 2030 just as a UK shale gas industry is likely to reach peak production."
It beggars belief that there is a threat of fracking sites popping up across Yorkshire, with drilling already happening at Crawberry Hill near Beverley and Kirby Misperton in North Yorkshire
We need to halt fracking and properly assess the risks instead of offering bribes to councils to press ahead.
Fracking is not a quick-fix solution to meet our energy needs. The best solution is for shale gas to stay in the ground, and for forward thinking governments to invest in clean green energy.
It is clear that the Conservatives, UKIP, Labour and the Lib Dems will all go down the fracking route if we let them. There is only one sane alternative and that is the Green Party.
Here is my correspondence with Paul.
Dear Paul
I'd like to know which way you plan to vote on the government's proposals to allow fracking companies to drill under homes without permission? I'm against these plans.There are major concerns about pollution of the water supply, earthquakes and visual pollution of the countryside. However the most important reason to oppose fracking is the increase in emissions.
To have any chance of avoiding catastrophic climate change we need to leave remaining fossil fuels in the ground and invest in energy saving measures and renewable energy. It's vital that MP's don't make it easier for the fracking companies to exploit shale gas when what is needed is massive investment in tidal, wind, solar and other renewables.
Yours sincerely
Graham Wroe
Dear Graham
Thank you for writing to me on the issue of shale gas extraction and the Government's announcement in the Queen's Speech.
I think our most pressing priority should be to decarbonise our energy production as a matter of urgency if we are to avoid catastrophic climate change. I am therefore proud of the Labour commitment to decarbonise our power supply by 2030, which will appear in our manifesto at the General Election.
In achieving this objective, gas will continue to have a role – along with renewables, nuclear and Carbon Capture and Storage – in a future balanced energy mix. This will be guided by the commitment to a 2030 decarbonisation target but, with 80% of our homes reliant on gas for heating, and in the context of declining North Sea production, indigenous shale gas production may have a beneficial role to play in energy production.
I am disappointed, both as an MP and as a member of Sheffield Renewables, that the Government is providing incentives to fracking while cutting back on support for renewable energy.  The Chancellor argues that these tax incentives are required to stimulate a market dealing with a number of unknowns – size and recoverability of resources, regulatory framework, and so on – but it is precisely these issues that need to be clarified before there is any consideration of advantageous tax treatment. However, if shale gas extraction can be introduced in a way which is consistent with the 2030 decarbonisation target, and if there is robust regulation, comprehensive monitoring and strict enforcement I don't think we can totally oppose shale gas extraction.
However, there are important regulatory questions which must be answered before large-scale extraction can begin. Tory Ministers have chosen to ignore legitimate environmental concerns rather than address them and provide safeguards for communities. I think that pressing these environmental concerns on behalf of all people should be the priority, and that the issue of landowners consent for tunnelling is a diversion.
On the issue of tunnelling, current legislation allows coalmining, water, sewage and gas transportation pipelines to have underground access without needing the permission of the landowner, but not shale gas or deep geothermal. In consulting on their plans to legislate in the forthcoming Infrastructure Bill, the Government is simply bringing the law for shale gas extraction into line with other rights on underground tunnelling. It will mean that, while shale gas companies will still need the permission of landowners for surface access and still require local planning consent, crucially underpinned by environmental impact assessments, they will not need permission for underground access at depths of 300m or more.  
To put this change into context, the Channel Tunnel is at 75m. Fracking is likely to happen at depths of 1 mile or more below the ground. So this drilling will be happening at twenty times the depth of the Channel Tunnel. At these extreme depths the land is not useable by the landowner. This brings the law for shale gas extraction into line with coalmining, water, sewage and gas transportation pipelines already have underground access rights without requiring landowner permission – and indeed with the law for airspace above people's land, where space beyond an altitude of 500-1000 feet is deemed not in use by the landowner and therefore they have no rights over it. In this context I think it would be illogical to oppose these changes.
However, as I said earlier, the issue of underground access rights is separate from the environmental and safety framework. Only by fully addressing legitimate environmental and safety concerns about fracking with robust regulation, comprehensive monitoring and strict enforcement will people have confidence that the exploration and possible extraction of shale gas is a safe and reliable source that can contribute to the UK's energy mix.
I will therefore continue to push for the environmental framework to be strengthened. In 2012, Labour set out six tough environmental conditions which should be in place prior to any shale gas extraction taking place in the UK. While the Government accepted four of the six conditions in December 2012, we still believe that the regulatory framework is not sufficiently robust.
It is clear that the level of methane in groundwater should be assessed prior to any drilling. Methane can occur naturally in groundwater, so it is important that robust baseline information exists to monitors activity against.
Further, all monitoring activity should take place over a twelve month period, to allow sufficient time to gather all of the evidence required to make an informed decision on whether to proceed with exploration.
Labour will continue to push for the environmental framework to be strengthened in these areas and for assurances that the responsibility for clean-up costs and liability for any untoward consequences rests fairly and squarely with the industry, not with taxpayers or homeowners.
Many other concerns remain, particularly regarding the effectiveness of the monitoring process and the capacity of the relevant bodies to undertake that monitoring and enforce the regulations, which must be addressed.
I will press to make sure these concerns are addressed. Thank you for taking the time to write to me on this important issue.
Best wishes,
Paul
Paul Blomfield
Labour MP for Sheffield Central