Font not the right size?
Dear SYPTE
BUS STOP ON DUKE STREET NEAR GRAFTON STREET
We love our new bus stop. It keeps us dry in the rain (which we have plenty of at the moment) and we can see when the bus is coming when we're inside. We also love the automated sign which tells us how long we need to wait for the next bus. Trouble is ever since it was installed the next bus has always been 2 minutes away! Please can you fix this for us?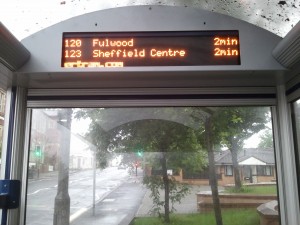 (This was reported to Rachel Cowling on 29th May.)
Dear  Graham
Further to my previous e-mail I can now advise that this stop has been reported as showing the incorrect information to SYPTE's support company VIX today.  Hopefully the issue will be resolved as soon as practicable.  If you experience any other problems with the displays please report them via our website www.travelsouthyorkshire.com of via Traveline 01709 51 51 51.
Kind regards
Rachel Cowling
See http://manorcastlegreens.sheffieldgreenparty.org.uk/2014/06/21/thank-you-sypte-the-bus-stop-is-now-working/