Font not the right size?
A meeting has been called to start a campaign to save Park Library. It's at 11am on Saturday 7th December in the coffee bar behind the Library. Please print off this poster and display it in your window. (Click on the poster to download a pdf)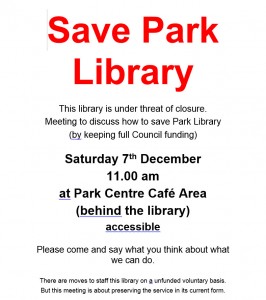 Local Labour Party Councillors are supporting a plan to run the library with volunteers. Although this is preferable to closure the idea is fraught with difficulties. The Greens want the Council to increase Council Tax in order to save important services like this.
Please "like" the Facebook page to Save Park Library.