Font not the right size?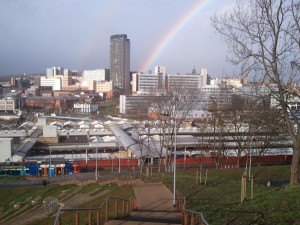 There will be a meeting to  discuss proposals for use, development and maintenance of the green spaces, parks and woods that make up Sheaf Valley Park.  A strategy paper is below which outlines some of proposals and will serve as a starting point for some constructive discussion around the future development of this park.  
The meeting will take place at Park Centre run by Park Community Action, on Wednesday 28th November at 6pm. (Park Centre, Samson Street, S2 5QT).
Friends of Sheaf Valley Park and Cholera Monument
Long term vision and aims: a discussion document
Background
Friends of Sheaf Valley Park and Cholera Monument  is a small un-incorporated association established (2009) to provide links to the residential communities in relation to parks and green spaces predominantly in and around the Park area of Sheffield. In particular, the organisation provided a small group of residents with whom Sheffield City Council could communicate during the development and implementation of the first phase of Sheaf Valley Park, confusingly called South St Park.  The group has good links to Friends of Norfolk Heritage Park and Park Community Action.
As of June 2012, a new committee has been formed by the group and in September 2012, they organised the second, annual community festival (Park Live) in South St Park.  This included 20 stalls, a  90 minute urban wildlife walk, dance and music performances, a fun dog show, scarecrow making, vintage teas, sketch crawl, apple pressing , pony and cart rides and a range of other participatory activities. However, the group, whilst wanting to continue to deliver an annual community event at South Street Park also have a longer term vision for their contribution to the Park and green spaces in this part of Sheffield. This document is the starting point for articulating that vision.
Potential involvement areas for Friends of Sheaf Valley Park
The following are initial ideas which following wider consultation we expect to refine into a clear, long term plan for Friends of Sheaf Valley Park. The group is currently small, with around six active volunteers and a mailing list of 'members' of around 50 people. However, with new housing proposed for the former College site, Park Hill's redevelopment (albeit slowly), we anticipate a steady increase in the number of local people wanting to participate. We have already demonstrated our ability to generate funding from grant applications and private sponsorship, and as a community group we are well placed to pull in funding to complement work undertaken through core council funding.
We want to encourage residents to support the green spaces close to where they live; to attract wider interest from people living in the city centre for whom these places are their closest woodland and open, green space; and to provide resources and amenities that are important to the local community. Our interest extends from South St Park, to the Cholera Monument, Clay Wood and up to Skye Edge, which together form a significant amount of very varied green and wooded areas and of which, only one small section (South St.) has the status of 'park'.  Therefore underlying all the activities we suggest is that continuing need to attract new members and to engage with local residents and to encourage them to support our work.
1.                Community events
The Group has now organised two annual Park Live events held each September in South St Park and intends to continue this as an annual event at the same time of year (1st or 2nd Saturday of September). The themes of the event are high quality, family, local, and participatory with opportunities for local young people to use the amphitheatre as a performance showcase.  We believe that the event has scope to become larger (in terms of audience, number of stalls, area covered), particularly with the introduction of the new  link route which will link South St Park with Clay Wood and Cholera Monument. We understand that this is now fully funded and in the design stage .  We also believe that there is scope to strengthen the Cholera Park fun day and for the FOSVP and Cholera Monument to contribute to this event and in the longer term we can see the potential for appealing to multiple audiences in terms of music, activities and participation.  There are also theatre and related activities that could be delivered by Park Community Action (PCA), an established local action group that runs the Park Centre combining rehearsal space in the Centre with performance space at the amphitheatre.   FOSVP has also organised a very successful film night showcasing film of the area from Yorkshire Film Archive and raising funds for the Group. With live music composed especially for the film,  we attracted around 120 people (ticketed)  which was held with the support of the Trades and Labour Club.
2.            Urban walks, running & cycling routes and guided urban rambles
In addition to annual events, we also see potential for a programme of walks which provide opportunities for people to see parts of the city that they have never visited or as part of a city centre day visitor tourist offer. Many of us are surprised at how few people who do not live in Park, are not aware of the amphitheatre and the new urban park that has been created. However much publicity is achieved, the importance of using word of mouth and creating interesting events for people to participate in may start to address this issue. With around 40 people joining the first of such walks (led by committee member: Nabil Abbas) at this year's Park Live event, we see potential for doing more of these and other walks. Some could be more focused on wildlife and ecology, others on local and social history.  We are also aware of the potential for attracting runners,  joggers  and cyclists (particularly from city centre ) who look for interesting new routes. Indeed a recent conversation with the manager of the Leopold Hotel suggests that they regularly try to recommend running routes to guests staying at the city centre. This might take the form of electronic documents as well as promotional cards and guides and could cover Skye Edge, Sheaf Valley Park, and Clay Wood.
3.                Woodland management and stewardship
We also see potential in taking a more active approach to urban woodland management and stewardship, perhaps as volunteer numbers start to increase and there is demand for more regular activities. Currently we have organised occasional clear-ups (Skye Edge) but with the new link to Clay Wood combined with lowering local authority resources, we think there is potential to get more local people engaged, learning new skills, managing woodland areas including coppicing for production of bean poles, firewood and other income generating, productive activities. As our membership grows there will also be scope for members to adopt a local steward or caretaker role, undertaking regular minor maintenance tasks (e.g. litter picking) and monitoring and reporting any problems in their local green spaces.
4.                Selective cultivation and edible habitats
In addition to managing woodland, there is also much greater interest (nationally) in growing vegetables and fruit in urban areas as a means of increasing awareness and knowledge of healthy food; of saving money and of having a positive approach to our immediate environment. With demand for allotments in parts of the city, far outstripping supply and yet many areas of unkempt land potentially available, there should be scope for small, pocket interventions that provide opportunities for people that want to participate in cultivating fruit and vegetables or simply want  low cost, healthy products. It's possible that in time, such activity could result in some short-term income generating activity.
5.                Communication, resources and working with Sheffield City Council
FOSVP has worked closely with Sheffield City Council providing a direct link to communities in the Park area with a direct interest in the new Park  and the City has helped support some of the group's initial activities by providing market stalls (20) for their annual events. This is very much valued and we hope will continue for the next couple of years. However,   in order to strengthen and embed the impact of FOSVP, this relationship will need to develop. On one level the group needs to develop its own sources of income and not be reliant on SCC, equally where there are tasks that need to be done in relation to the green areas, then there may be opportunities for FOSVP to assist the City at lower cost than another third party provider.  Equally, the relationship needs to be slightly more structured. If there are plans to close the steel steps for a performance, then it would be good to discuss that in advance with FOSVP, even if that is merely an informal consultation.
There is also a need to communicate the benefits of the Park to a wider community across the city centre and some of the activity suggested in this paper could play an important role in achieving this.  This is in both our interests but we do think that the name is confusing. Calling the Park South Street Park when it already had the relatively new name of Sheaf Valley Park has not helped with the wider communication of where or what the Park is. We would like to see this improved. Call the park Sheaf Valley Park. Steel Steps, South Street, Amphitheatre, Clay Wood, Cholera, Skye Edge,  can all be incorporated land marks within the Sheaf Valley Park umbrella. As the Sheaf Valley Park develops (with the new link to Cholera and Clay Wood) let us try and clarify the branding so that we can work together to send a stronger message about the quality of work that has been done on the Park and its potential as a contributor to community cohesion and civic engagement
Next steps
Following a discussion with Sheffield City Council, other local stakeholders and networks we plan to:
formalise our long term strategy
 to develop a three year business plan for the organisation
 to focus on the priorities that we agree we should address as a matter of urgency
Whether it is signage at the entrance to the Park or replacement interpretation boards at the Cholera Monument; skills development, volunteer participation or opportunities for young people, we strongly believe that Friends of Sheaf Valley Park can contribute to participation in our community and can work in partnership with Sheffield City Council to improve the quality and experience of our city.