Font not the right size?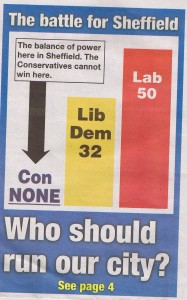 This graph is from The Sheffield Courier, a red top newspaper that looks like it's from the Labour Party, but when you read it you realise it is from the Lib Dems. The graph has conveniently forgotten that there are two Green Party Councillors on the Council! What are they so afraid of that they have to distort the facts like this? Well, the main thing they are afraid of is losing their seat in Broomhill, currently held by former leader of the Council Paul Scriven, to Bernard Little of the Greens. What they should be afraid of is the fact that the public have had enough of their broken promises, and graphs like this confirm that the Lib Dems are not to be trusted.
I've been out canvassi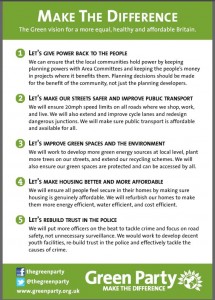 ng today for Rob Murphy in Central Ward. It is going to be a close battle their again between Greens and Labour, but I think the good people of Central Ward will realise that it is important to have some opposition to what is likely to be a Council with a massive Labour majority after May 3rd. The Lib Dems are likely to lose many seats to Labour, but their policies are very similar anyway, so it makes little difference if you vote Lab or Lib. A Green vote however is for a completely fresh approach to politics as outlined in this leaflet. (click to enlarge)
Greens can be encouraged by the support from Salma Yaqoob, leader of the resurgent Respect Party, who has asked voters without a Respect Candidate to vote Green Party. Now the Labour Party has moved so far to the right there are so many disillusioned voters on the left who do not know who to vote for. I hope they will put their trust in the Green Party because our policies are both radical and realistic. We have much in common with Respect- opposing privatisation and dodgy PFI deals, opposing the war, demanding investment in jobs and green technology.