Font not the right size?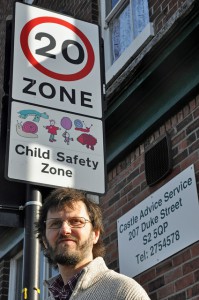 Here are the five candidates for the Manor Castle local election on May 3rd.
Les Arnott  UK Independence Party (UK I P) 19 Athelstan Road, Handsworth, Sheffield, S13 8JB
Josh Karim Lahlou  Conservative 116 Upperthorpe, Sheffield, S6 3NF
Pat Midgley  Labour 303 Granville Road, Sheffield, S2 2RP
Jack Robert Williams  Liberal Democrat 18 Violet Bank Road, Sheffield, S7 1RZ
Graham Stephen Wroe , Green Party, 38 Glencoe Road, Sheffield, S2 2SR
The first thing to note is that the BNP are not standing. Indeed they will be missing from all the ballot papers across the city! This is excellent news and the anti fascist campaigners like Unite against Fascism are to be congratulated. We are a multicultural city and the politics of racial hatred have no place here.
It is disappointing that only two of the candidates live in Manor Castle ward.
Les Arnott has been a stalwart for UKIP for many years and lives in Handsworth. A google search found this interesting letter asking why it is that UKIP never oppose the BNP in Sheffield elections. I wonder if it ever got an answer? The Sheffield UKIP website is currently not working so I have not been able to find UKIP's point of view on this.
The Lib Dem candidate Jack Williams lives in Nether Edge. He has written on a blog here supporting the scrapping of the 50p tax rate. Although he believes that this should only happen in conjunction with lowering taxes on low salaries I think it is disgraceful that taxes on the rich are being reduced when we are making drastic cuts to social services, legal aid and support to disabled people. Policies like this are simply immoral and the Lib Dem support for the Tories will cost them dearly at these elections.
The Conservative candidate is Lahlou Josh Karim who according to Facebook is a Psychology student at Hallam University and lives at Upperthorpe. (I doubt if there are two people with this name in Sheffield, but if you know different please let me know.) A search for him on the Sheffield Conservative Party website yielded no results.
The Labour Party candidate is Pat Midgley.  Pat has been a Councillor since 1995, one year after I stood for the first time in the local elections. Pat is a good local Councillor. She lives in the ward and knows the area and the people very well. She recently helped me with a local planning issue. So why am I standing against her? Even though I have the utmost respect for Pat, I can't say the same about the party she represents. Labour say they would make similar cuts to the Coalition Government. When they were in power they failed to regulate the banks. Labour has wasted millions on privatisation schemes and are about to embark on a PFI for our roads which will cost Sheffield dearly.  Labour started the sell off of NHS services. Labour introduced tuition fees and let local schools opt out of local authority control to become academies. Worst of all Labour took us to war and planned new nuclear power stations.
That is why we need a Green alternative and that is why I am again contesting this election. We need to invest in infrastucture and small businesses to create jobs instead of cutting the services we rely on. We need to reduce the deficit by taxing the very wealthy and closing tax loopholes. We need to oppose privatisation, whether it be of the NHS, our roads or our schools. We need massive investment in energy saving and renewable energy to combat climate change. We must oppose expensive nuclear power and wars for oil.
So please vote for me on May 3rd! If you would like a poster to display your support, please get in touch.