Font not the right size?
Tomorrow I will be attending the Church action on Poverty Pilgrimage around Manor Castle ward.
There will be a short service at Victoria Methodist at 9.30, followed by a talk by Rev Liz Wills about.the work of the church in the area, and a general briefing about the Pilgrimage. From there we walk to the Salvation Army in Duke St where Major Ivan Oliver will tell us about the various services they provide for vulnerable people in the city.
We then make our way towards Skye Edge, with its fine views and pause there for a short talk on its history, including the radical meetings in the C19th and the gambling gangs in the 1920's.  We wend our way through part of Wybourn, past some of the community facilities in the area, to St Oswald's Church, where we stop for a prayer, a short talk on the adjacent Emmaus (Catholic and C of E) Primary School, and a break for tea and coffee. From there it is a few minutes' walk to Manor Oaks Farm, Café and Shop where a member of staff will explain its objectives to us.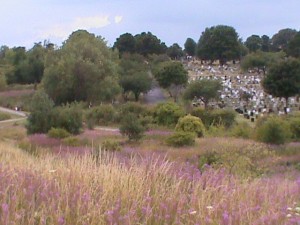 The next part of the pilgrimage is through parts of the Manor Park Estate, passing some of the community facilities, to William Temple church where we pause for prayer and a talk about the work of that church in the Manor. (This part of the walk can be omitted by some pilgrims if they would prefer to remain awhile at the Manor Oaks Farm and re-join us on our way back)  Walking past Manor Lodge we shall briefly discuss the significance of the Lodge and the Turret House in Sheffield's history before arriving at St Aidan's Church to eat our packed lunches and join with Rev Julie Upton, Rev Liz Wills, and others in a discussion about the role of the churches in relation to social regeneration in this area.  Finally we shall walk back to Victoria Church, Stafford Road for final prayers in the adjacent wild-life garden around 2.00 pm.
With all the news about Occupy London and St Paul's at the moment it is refreshing to see the Church in Sheffield standing up for the poor. But as the cuts bite, unemployment rises and the rich businessmen award themselves pay rises of 49% it is time for the Church to get highly political. The Bishops should be leading services outside St Paul's with the protestors, clearly calling for an end to the massive inequality in our society.
What would the Green's do? As well as substantially increasing taxation on the very rich and putting a stop to tax avoidance, we would implement a Citizen's Income Scheme to ensure no one needs to be in poverty, and implement legislation to restrict the salaries of executives to ten times the salary of that companies lowest paid worker.