Font not the right size?
A residents meeting will discuss tomorrow what we want to do about the Stafford/Glencoe/Fitzwalter Road junction. This meeting has been called by local residents, not the Council or Community Assembly, so that we can be free to discuss exactly what we want to see at the junction, instead of being sold the Council Officers preferred option. Please come along and have your say. It's at 7pm at Victoria Centre, Wednesday 5th January.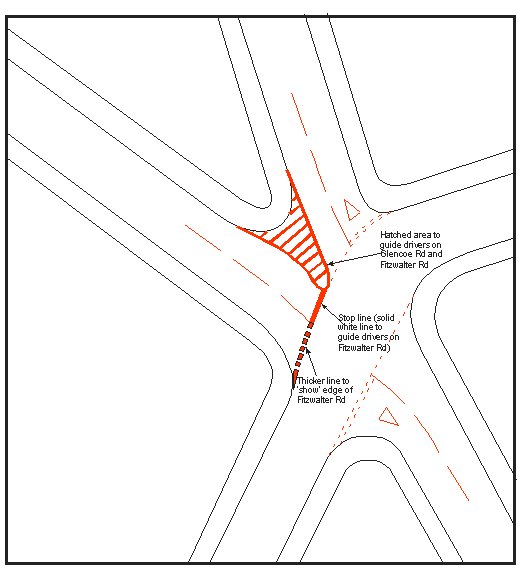 One more proposal is now on the table, at the suggestion of local resident Andrew Civico. This would presumably be much cheaper as it does not involve extending the pavements, so  some money would be left over for traffic calming or 20mph signs.
Andrew writes
"The above modification should be cost effective in that it only uses clearer road markings to enhance the safety of the junction.  On the drawing the white-linage is shown in red for clarity only and would, obviously, be white in reality.
The 'hatched' area is there to guide drivers both on Glencoe Rd and Fitzwalter Rd.  This area could be made into a 'cushion' to further encourage drivers (Fitzwalter to Stafford) not to cut the corner.
"EU sponsored practical research and investigation into driver behaviour in a range of environments has identified that driver safety and driver decision-making can be positively influenced by clearer and higher performing road markings." (http://www.rsma.co.uk/files/whitelinessaveslives.pdf)
This is a useful contribution to the debate, but my preference is still for a mini roundabout. I do not accept the Council argument that there is not room to safely put a roundabout here as many authorities have roundabouts in much smaller spaces. The internal row highlighted in the Star yesterday shows that there are "serious weaknesses" within the Highways Department. The department is judged to "lack transparency" and "not to see answering correspondence with the public as a priority". The way they have tried to impose a scheme on our area that no local residents support is certainly further evidence of this. Residents need to stand firm and demand that the money is spent on improving the area, not making a dangerous junction into an even more dangerous junction!