Font not the right size?
I attended one day of the Green Party Autumn conference in Birmingham .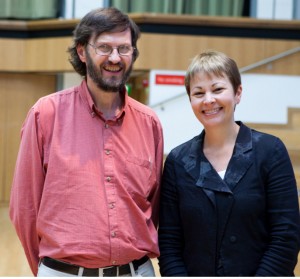 I went to "Meet our new MP" . Caroline always manages to come across as thoughtful, sensible and very human and she did a great job tackling questions on a very wide variety of issues. See her speech here.
I went to a debate about the AV proposals and found myself agreeing very strongly with the minority view put forward by Jim Jepps, who thought we would be wrong to sign up to the Yes campaign because we should hold out for a proportional system. We should not spend the parties money campaigning for something that is not party policy- AV and the revised constituencies could even make it very difficult for Caroline to retain her seat in Brighton. I gather however that conference voted to join the Yes campaign on the Monday.
I went to Derek Wall's book launch –No Nonsense Guide to Green Politics published by the New Internationalist. It was brilliant to hear at first hand Hugo Blanco from Peru who has been at the forefront of the campaign to protect the Peruvian rainforest since the 1950's. The book is written very much from an international perspective and I am looking forward to reading it.
Unfortunately Salma Yaqoob couldn't attend the panel on Public Service Cuts as she was ill,  but I was pleased Adrian Ramsay was putting us in the forefront of the battle against the cuts alongside Billy Hayes of the CWU.
Unusually I didn't get to speak in any of the plenary sessions, but was happy with the way the votes went that I attended, mostly about the banks/economy. Our proposal for the creation of a Peoples Bank should be a real vote winner.
It was good to meet lots of new members- lets hope the party manages to keep hold of them and involve them. I still miss the old  table arrangement where conference members can sit together in regional groups as opposed to the theatre layout we now seem to prefer- but appreciate this would be difficult with the increased attendance. There's a good article on Left Foot Forward showing that the Green's are now the sensible choice for disaffected members of Labour and the LibDems.