Font not the right size?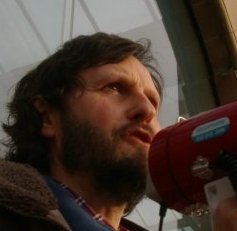 I spent much of the weekend knocking on peoples doors and discussing how they were going to vote. I was surprised how many of them had fallen for the Lib Dem argument that they are the only alternative to Labour. A typical response was "I will support you in the locals but I've got to vote Lib Dem in the General Election to get Labour out." When asked why Lib Dems were better than Labour most people replied with reasons like the war in Afghanistan, the expenses scandal and support for proportional representation.
So what does the Lib Dem manifesto say about Afghanistan?
'Be critical supporters of the Afghanistan mission. The military surge must be accompanied by a strategy to ensure a more legitimate government, tackle corruption and win over moderate elements in the insurgency. We will continue to demand a strategy that involves other players in the region. We believe that a successful strategy will stabilise Afghanistan enough to allow British troops to come home during the next Parliament. (68)'
I'm not sure this is very different from the Labour policy
"Afghanistan is not a war without end. Together the military and civilian effort is designed to create the conditions for a political settlement that keeps Al Qaeda out, reconciles tribal interests, and involves Afghanistan's neighbours.(10.2)"
I much prefer the simple Green policy , which is  "Withdraw from Afghanistan".
And what of the Lib Dems economic policies? The following article is on the Green Party website. It shows the Lib Dems plans for investing £3 billion in green jobs don't really match up to the Green Parties costed plan to invest  £44 billion- nearly 15 times as much..
Greens criticise Clegg's £3 billion
"green jobs plan"
19 April 2010
A Green Party spokesperson commenting on the Lib Dem £3 billion investment plan said:
"The numbers of jobs involved in the Lib Dem plan are far less than Britain needs, the resulting CO2 reductions are inadequate, and £3 billion is frankly a derisory amount when we're talking about the future job prospects of so many people and the seriousness of climate change."
"This is the latest pathetic attempt by the Lib Dems to portray themselves as green. There is only one Green Party, and it's the party that last week launched a fully-costed job-creation plan showing how Britain could pay for a £44 billion investment package to create a million new jobs in the UK."
The Green Party proposes free insulation for every home that needs it, which could create 80,000 new jobs and will result in homes that are warm and cheaper to run, as well as much lower energy costs for businesses. The Green workforce training and environmental community programme includes grant-funded training for jobs in energy conservation and renewable energy, and conversion courses for skilled engineers from other industries. This would see £5bn spent on creating 350,000 training places, offering opportunities to 700,000 unemployed people, in particular the young unemployed.
All these jobs will not only provide employment solutions, but will also provide the country with the vital 21st century infrastructure it needs, including an efficient public transport system, homes that are warm and cheaper to run, and much lower energy costs for businesses.
Robin Oakley, head of Greenpeace's climate and energy campaign, acknowledged that a government investment plan "would provide a clever boost to the jobs market, to the UK's economy, to our energy security and they'd help tackle climate change (3).
Mr Oakley described the Lib Dem plan as "twice as good as Labour's plans, and three times as good as the Tories" but said there is "still lots of room for the other parties to top these proposals because a larger investment would provide even greater support for the economy and make Britain a world leader in cutting-edge energy technologies." The Green Party says it has delivered exactly what Greenpeace wants.
Friends of the Earth's executive director Andy Atkins also acknowledged that there were "huge job opportunities" to come from investing in a low-carbon future. He said, "The UK is well placed to reap the vast economic benefits of going green – we have one of the biggest renewable energy potentials in the whole of Europe."