Font not the right size?
Two pieces of good news to report today.
Firstly my Ugandan friend Sarah has been granted indefinite leave to remain in this country. Her long struggle to be free of the threat of deportation is now over and she can settle down and look for a job.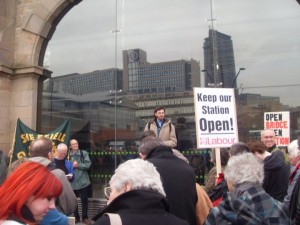 Secondly I was part of a RASC delegation that met today with Lord Adonis, the transport minister. He told us that he had come to an agreement with East Midlands Trains that barriers would not be introduced to Sheffield Station unless a new fully accessible bridge is built between Park Hill and the city centre. There would be thorough consultations with local people about the plans for the bridge.
Reading between the lines I doubt if public money could ever be made available for such a bridge when the one we have got already is perfectly serviceable. I'm sure everyone in Sheffield could think of better ways of spending this money! So if a new bridge is not forthcoming, we can keep using the old one, without being impeded by barriers or EMT ticket collectors denying us access to our bridge.